Welcome to a brand new year and the second season of the Operational Excellence Show! I'm delighted that you are here, spending your time with me!
Let me start with wishing you all a very happy and prosperous New Year! I love this time of year – when everything is open and all things are up for grabs! When this episode airs, the UK will have left the EU and we are facing new ways of doing business in our contact centres. On 10 December I published an article about the Brexit Question on LinkedIn. A week later I attended a webinar to the topic – and at that point I decided to make this topic the first episode of season 2 of the Operational Excellence Show.
Here we go – after 4.5 years of knowing that the United Kingdom will have left the European Union after 12 months of transition period. At the time of recording this show we do not know whether or not we will have a deal. What we do know, however is, that things will change either way.
In November I got a letter from the Department for Business, Energy & Industrial Strategy advising me that I needed to get my business Brexit ready. Given that Rutz Consulting is delivering a lot of their work outside the United Kingdom, I was already quite well prepared; and for travel purposes, I'm grateful for my Swiss Passport. This allows me to work and travel under the Schengen Agreement.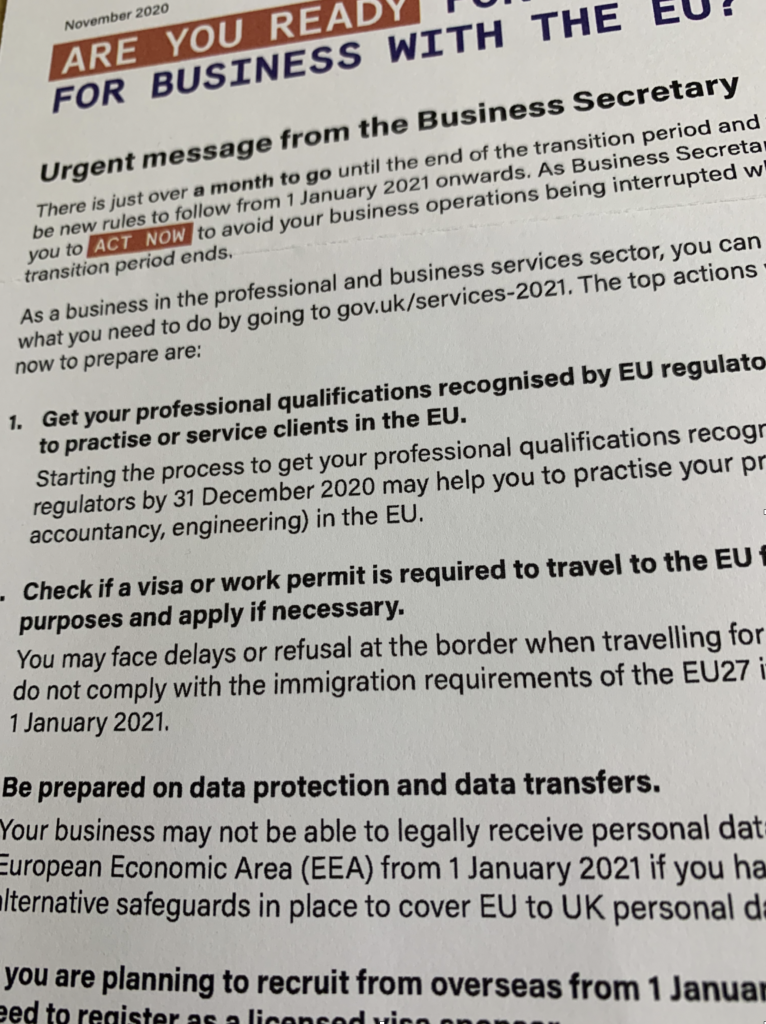 Recently, the British Foreign Secretary Dominic Raab was asked by Sky News how well he thought the UK was prepared for a no deal. Mr Raab referred to the said letter, reminding everyone to "be prepared". When asked what Businesses should prepare for, the Foreign Secretary didn't have an answer.
I'm not a Brexit Expert, yet as a Swiss Citizen I have a pretty good understanding what it means to do Business as a non-EU member.After all, Switzerland's relationship with the EU is by no means easy or straight forward. But it works.
Let me share my views on how to make your contact centre Brexit-Proof.
Look after your People!
Make sure you check that all your staff are eligible to work in the UK! Either they are British Citizens, or have settlement status or have pre-settlement status. I recommend you do an audit on your personnel files! If you have doubts, ask your employee for evidence that they did indeed apply for pre-settlement or settlement. In case they haven't done so, offer them help, using the Link to the Government Website! Your employees can apply until 30 June 2021! As an employer, it is your responsibility to make sure your staff have got the correct documentation! The right to work check-list will help you here too! Maybe you want to review the remuneration package for your multilingual workforce. I can guarantee you, in the next 12 months German, French, Spanish and Italian will become short in supply! Never mind Dutch, Norwegian or Finish! You want to keep your staff!
Get your Processes in Order!
If you deliver multilingual services from your contact centre based in the UK, you will want to look at your hiring process! Not only do you need to ensure your candidates meet above criteria, if you want to employ somebody from the European Union you need to have a license to do so!
To attract the right person for your job opening you might want to consider a relocation package including help with finding housing, enrolling with the NHS, support with getting a National Insurance Number. It is best practice to have information about "living in the UK" ready for your new member of staff; in fact it should be included in your attraction policy.
You will need to look at your staffing levels, no matter what languages your centre is getting contacts in. Recently, yourmoney.com published a report, stating the worst waiting time in the energy sector being over 40min! Now imagine – this is not an imported service, a travel arrangement or imported goods. Whilst I believe, blaming Covid for long waiting times is no longer acceptable in any contact centre… just imagine what Brexit does on top of Covid! Goods are most likely delayed at a port – according to government sources the average delay will be 2 days – the customer will call you. Travel requirements change, – the customer will call you. Delivery times changed – the customer will call you!
Your contacts will go up, calls, chats, emails, webforms, and you need to be ready. If you haven't recruited yet – you are already too late! Ensuring that your Digital Solution is up to date is paramount. But remember, the AI driven solution is only as good as the input of the people behind the AI. Plus you want to ensure that your customer feels valued. To much can go wrong when using chatbots and the like. And customers do not appreciate it when they hit a dead end!
Ensure your training is up to date. Things change fas. New questions will be asked, queries you may never have had before! So…. are you Q&A's up to date? Is your knowledge base up-dated with all the new requirements? Does your staff need refresher training?
Protect your Profit!
Attrition is expensive! We all know it – with Brexit – it will become even more expensive. If you happen to have an entity within the European Union (ie a Nearshore Contact Centre) – happy days, your life will be a whole lot easier than that of those who haven't a footprint outside of the United Kingdom. You might want to consider opening a branch outside the UK. My colleague Peter Ryan published an article on Emerging European Contact Centre locations. Have a read!
Another way of protecting your service delivery and subsequently your cost is having a robust Working from Home proposition in place, allowing you to hire your employee from anywhere in the UK. Hiring people for a Working from Home role with languages opens opportunities for you. Ensure you test the accent of your new hire. Nothing worse than losing customers' trust due to poor pronunciation or poor grammar!
If you haven't yet invested in remote working technology, now is a good time to start looking at tools.
Are you wondering how to get all of this sorted in your contact centre? Give me a call or send me an email – at Rutz Consulting we are happy to help. We start with an internal audit. This shows you quickly where your gaps are. Don't despair – we will also help you to bridge these gaps. And – your internal audit is also a great starting point for your operational manual – in case you don't have a comprehensive one yet!
---
Resources
Rutz Consulting Contact Center Brexit Checklist
Marianne on LinkedIn