It was my great privilege to be invited to speak at this recent event, organised by ultimate.ai. The event was a Customer Experience webinar and I was part of a panel of accomplished women leaders in the industry. The video of the webinar can be viewed here (my segment begins at the 1hr 20min mark!).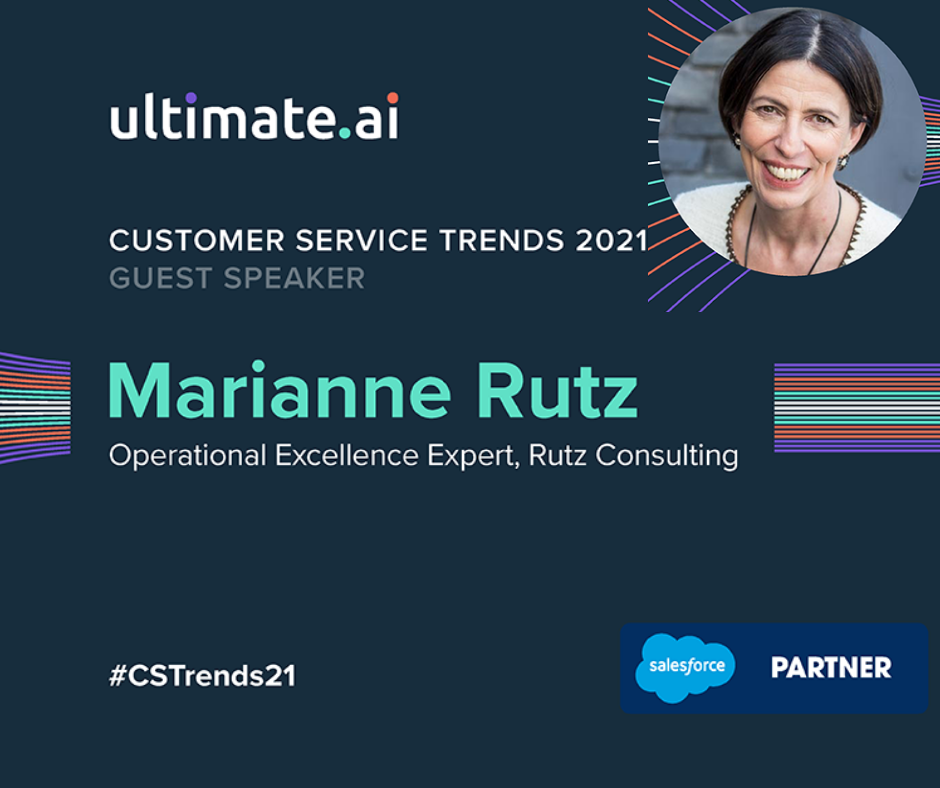 In the run-up to the event ultimate.ai published an interview with me which I'm delighted to include here in full:
Marianne Rutz has a track record in the contact center industry since 1999, and is now the founder of a consulting firm for the industry. "I learned to apply the 'Soup, Soap, Salvation principle' from my dad," she says. "People need to be fed and watered before you can offer them anything."
ultimate.ai: Did you pick your career or did the career pick you?
Marianne: The career clearly picked me! I took a position as project manager for Hertz on a 9 months contract, moving to Dublin to help set up their Shared Services Centre. At no point did I associate this with a career change – it was just another project in the travel industry, where I came from.
At the time we had just two channels, phone and letter (yes, snail-mail), and we were just getting used to facsimiles when we debated the use of canned messages and preset responses to cut down on AHT (Average Handle Time). I was livid! How could we be thinking of actually responding to customers without a human touch? I understood the desire to increase productivity, but I felt a Swiss customer would expect a different tone of response than a German customer would. Surely a preset answer would diminish the experience. That was the start of my interest in customer experience! And we didn't call it CX then at all!
What were some challenges you faced and lessons learnt throughout your career in customer service?
My biggest challenge to date has been the correct use of technology. Though I loved the progress we had made from faxes to live chat, I felt there were important questions that needed to be answered: How do we gauge what our end customer is really saying? How do we ensure our frontline agents get the correct cultural training to engage in omni-channel options? Additionally, I also felt CS/CX had for way too long been seen as a means to manage costs rather than as a long-term investment.
How has customer service changed over the years, and what are the biggest trends in the industry moving forward?
We basically came full circle! We went from canned email responses to chatbots – which is built on the same principles. The biggest trend today, however, following Covid-19 and Brexit for the British – is that our customers want to feel "loved" – they want to feel heard and that they are part of something bigger. Shep Hyken refers to this phenomenon as a community in the broader sense.
What advice do you have for women who want to pursue leadership roles in the industry?
I think a constant and healthy curiosity about why you do what you do is the key in CS/CX. You don't want to accept the status quo. Of course it does help when you have an in-depth understanding of customer service through Key Performance Indicators, as well as the impact of the service you deliver – this helps you ask the right questions to improve your services.
The second piece of advice, which I still live and breathe, is to spend half a day each month in your customer service centres – no matter what title you hold! My biggest fear career-wise is that I lose touch with the real world by not spending enough time interacting with my agents and my customers.
You have worked in the multilingual contact center industry prior to setting up your own consultancy firm. What advice would you give for women who wish to start their own businesses?
I love my own business! If you have found a calling to start something on your own – answer the call!. But do not be mistaken; tenacity, perseverance and determination – in addition to passion and calling – is still key to succeed. No one in my family was or is an entrepreneur, so I didn't have a family role model to emulate. I had to learn through my own personal experience that "something going wrong" isn't a failure but merely a lesson to be learned. Another lesson I learned was dealing with downtime: Downtimes present opportunities for you to improve your business, so look for opportunities to grow in whatever situations you are in.
Tell us about your podcast, one of the most successful customer service podcasts out there.
The podcast is a passion project! The Operational Excellence Show was born out of the desire to highlight the talents in CS and to help change the rather negative perception towards a career in CS and CS in general. It is a beautiful way to connect with people, to meet extraordinary men and women in the industry and to discuss topics we don't really talk about openly and candidly enough, with love and heart.
Connecting with people is something that is at the heart of all I do. I'm very proud to have helped many multilingual operations to streamline their delivery and to provide quality service at the core of everything they do. This led to the development of my Service Delivery Framework, 'LEAP', which stands for Leading People, Executing Process and Amplifying Profit. I use this framework every time I engage with a client.
These interactions, combined with a course I took in Applied Occupational Psychology while I was on my cancer journey – opened my eyes, making me realize that we, as human beings, naturally strive to deliver good work.